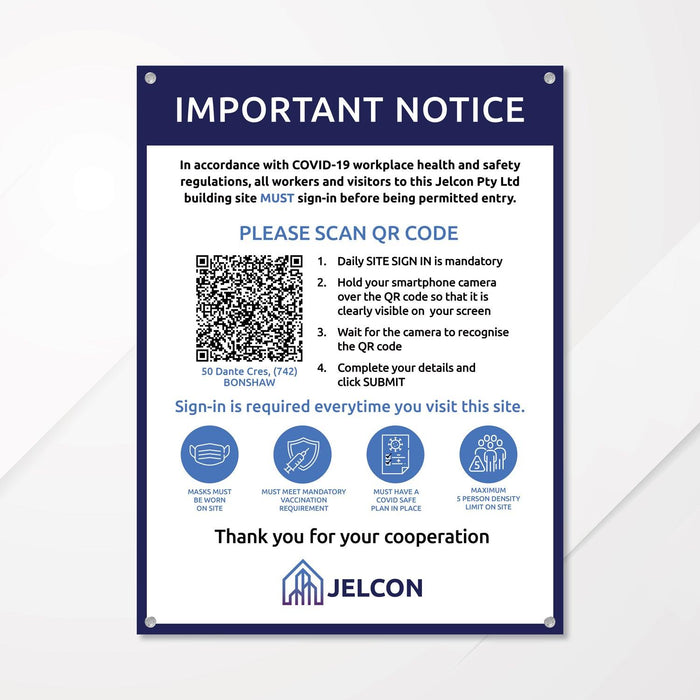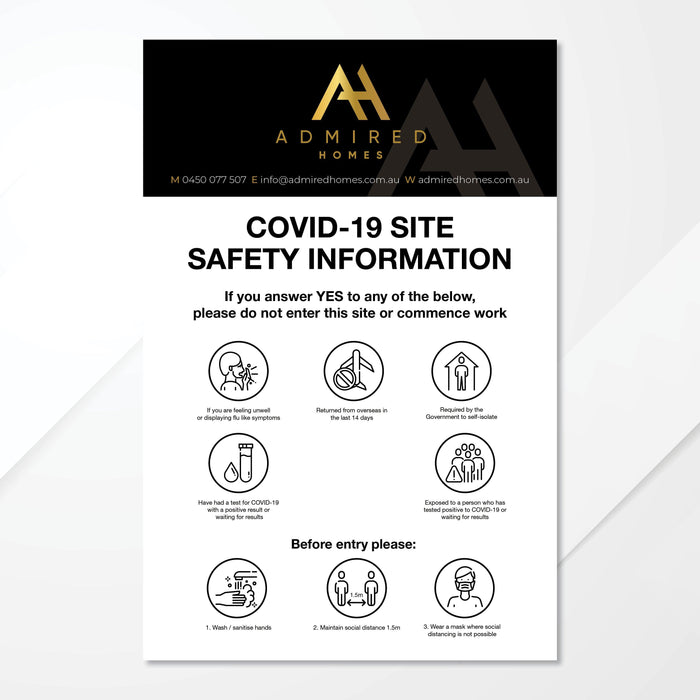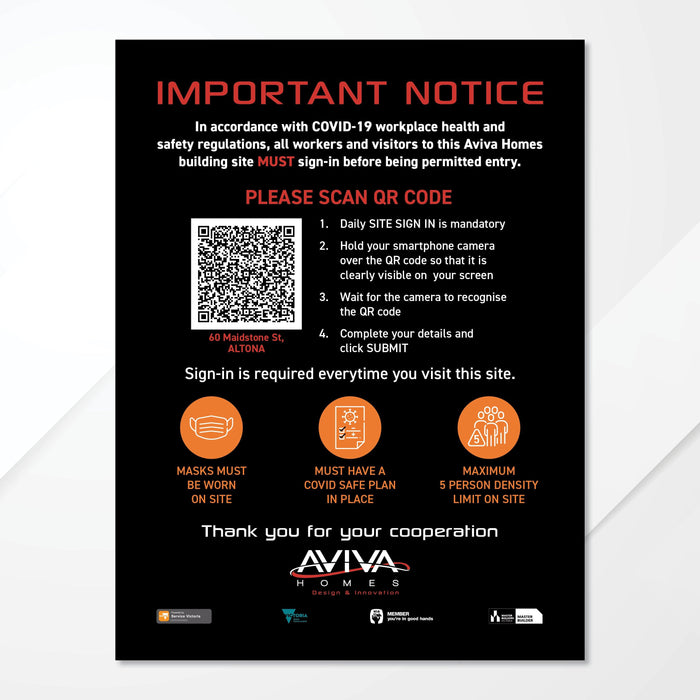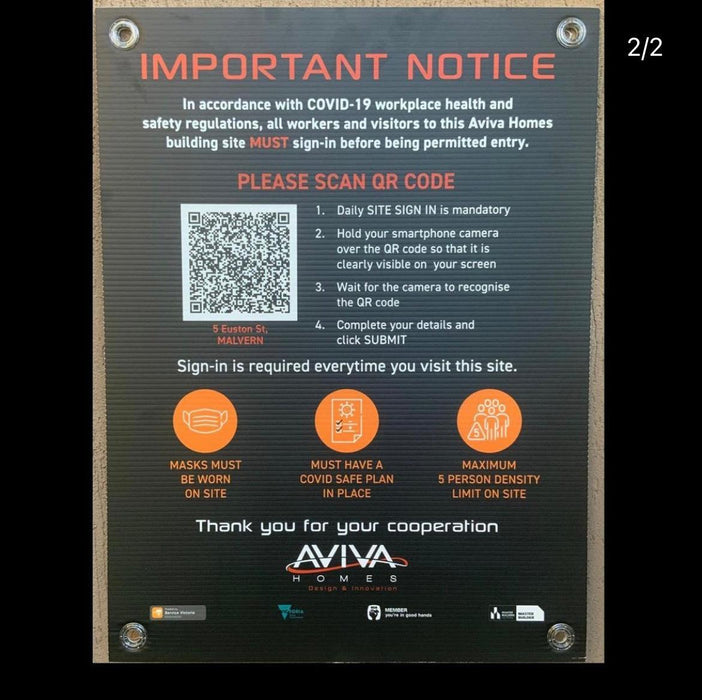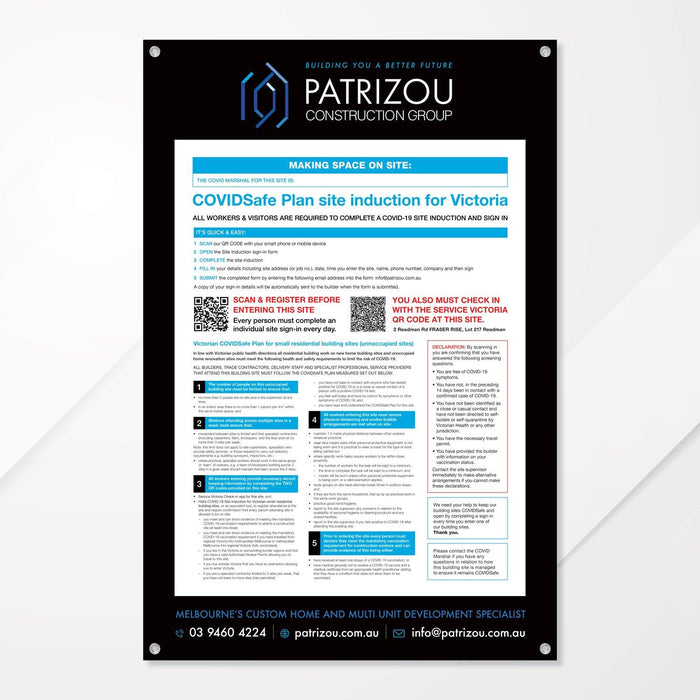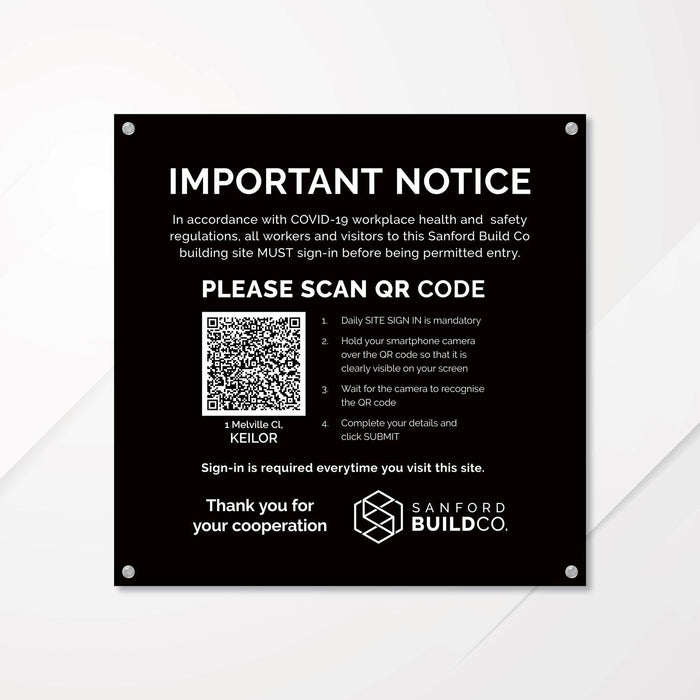 It is important to display the correct Covid-19 safety signage on your worksite to remind all workers and visitors of the risks of COVID-19 and the measures that are necessary to stop its spread. Within Australia, there are various regulations and requirements you as a business owner must follow, refer to the resources section below to help follow the correct guidelines.
To help give you some guidance in this ever-changing environment, here is how we have helped other builders with their COVID-19 site safety signage. 
> Signage options that show the correct workplace health and safety regulations and warnings 
> Signage embedded with unique QR Codes for Check-in or Site induction 
> COVID-19 Site safety information to suit the current status
> COVIDSafe Plan information to suit the current status
What we would need from you:
> Please provide the unique QR posters for each worksite
> Advise on the current regulations that follow your state, association or industry regulator required for the signage 
> Advise on your breakdown of quantities to suit your situation 
> Providing the relevant business information and branding for the signage as per below
Covid-19 Signage Product Includes:
Artwork: Concept layouts, refinements, finished artwork to spec and print-ready files.
Colour: Full-colour print 1 side
Stock: 5mm corflute, single-sided and rectangle cut
Finished: Clear plastic eyelets qty 4 per sign
Delivery: 1 Point Australia
COVID-19 Signage Options, quantities and pricing:

Size 350 x 350mm
5 @ $225
10 @ $325
15 @ $400
20 @ $450
25 @ $525
30 @ $575

Size 600 x 450mm
5 @ $250
10 @ $325
15 @ $400
20 @ $425
25 @ $500
30 @ $550

Size 900 x 600mm
5 @ $300
10 @ $375
15 @ $500
20 @ $550
25 @ $625
30 @ $700

All prices include artwork, GST and delivery.

*Quantities don't have to be split evenly, this can be your own quantity breakdown*.
____

COVID-19 Signage Resources
QR Codes (Victoria)

COVIDSafe Plan (Victoria)

Covid-19 Construction Sector Guidance (Victoria)
Victorian Building Authority Resources Hub
Master Builders Victoria Covid-19 Resources Hub
Coronavirus (COVID-19) health alert (Australia

_____

*Artwork options*
The design required - This service includes our designers creating a range of concept layouts, along with any revisions and finalising of the artwork. You just need to supply your logo in a vector format along with the details you wish to have included in the artwork.

To get started we would need the following:
All details can be emailed to info@tradiepacks.com.au

1. Purchase preferred COVID-19 Signage size, print option and quantity
2. Provide logo in a hi-res vector format PDF or EPS
3. Provide business details
4. Advise on details for artwork
5. Advise on membership/accreditation logos to be included
6. One of the team will be in touch to confirm we have everything
7. Concept layouts provided for signage
8. Designers will liaise directly with refinements before finalising
9. Provide delivery address for all printing

If you have any questions about the process or have any additional info to be supplied outside the design brief you can contact us via info@tradiepacks.com.au or on 1300 657 499.

We also provide a range of other services such as mesh banner design,  websites for tradies, branded signage and more!